St John's Timeline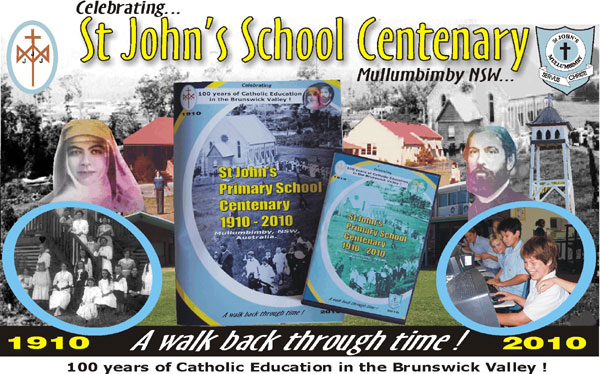 The Brunswick Valley has a rich history, with timber-getting and boat-building being the initial industries in the area, followed later by farming and agriculture.
In the late 1850s, boats were constructed on the banks of the river at Brunswick Heads. With the boat-building industry growing rapidly, Brunswick Heads became a thriving sea port with large numbers of sail and steam-powered vessels carrying cargo of precious red cedar to southern markets.

During the 1860s cedar-getters set their sights on valuable forests found further west in the upper reaches of the valley. As the cedar-getters and boat-builders made frequent trips up the river from Brunswick Heads for materials, a camp site was established at the junction of the three arms of the Brunswick River. It was an excellent site because the river was tidal and could be easily navigated to that point. Its central location gave access to all areas of the catchment and it provided the best position for bullock teams to cross the river with their wagons loaded with timber.

This site grew to become a village and later the township of Mullumbimby.
Mullumbimby did not prosper until after the Lismore to Murwillumbah railway line was established in 1894. It became a transport centre to Byron Bay with the jetty being built at Byron.

It was the banks, the stores and churches that generated the hub for the developing township of Mullumbimby. It was during those early days that a sound foundation was laid for the town of Mullumbimby to become the service centre of the Brunswick Valley.

(History Facts courtesy of Frank Mills OAM, Local Historian)
The Catholic Community: In the early days, local Catholics gathered together for Mass which was celebrated in a room at the Railway Hotel. Mullumbimby did not have its own resident priest so visiting priests made the journey to Mullumbimby from the Bangalow Parish, to say Mass  on a regular basis.

Time line of Events
1906 – Dean Walsh acquired land for a brick Church. Foundation stone blessed on May 13th, 1906.
1907 – Original Church officially opened.
1910 – A cottage near the railway station was acquired for a Convent and the first community of sisters took up residence. 28 children were taught by Sr Malachi Reardon in a room adjoining the new brick church.
1911 – Diocesan archives record the first convent was built and officially opened on February 26th, 1911. This was a timber building that accommodated the first of the School Boarders.
1916 – The new brick school was opened January 23rd, 1916. (This building housed the primary students for many years, firstly as classrooms and later as an art & craft room. It was demolished in 1989)
1917 – St John's was made a Parish in its own right and Fr Richard Williams was appointed Parish Priest.
1919 – Tragically, the original convent was burnt to the ground and Sisters Edna, Oda, Dominic and Julitta had to find alternative accommodation. Mr Gerald O'Connor allowed them to stay at his home for some time after which Mr Dan Buckley gave them his house about three blocks from the present convent. The sisters stayed there until a new brick convent was built.
1920 – A new brick convent was constructed with financial assistance given by Bishop Carroll and labour supplied by the local parishioners. This convent also accommodated boarders.
1938 – Extensions to the original school building were completed  by Fr Williams. The new work was blessed by Bishop Carroll on January 30th, 1938. While documentary evidence is unclear, interviews with former pupils suggest that St Joseph's Convent School changed to become known as St John's School around this time.
1955 – Fr O'Byrne built a new Infants School.
1964 – More new buildings were erected and the school gained registration as a High School.
1966 – New Science rooms were constructed.
1974 – New St John's Church officially opened by Bishop Satterthwaite, November 10th, 1974.
1977 – Secondary School closed but St John's remained open as a Primary School.
1989 - Original church building demolished. New canteen and covered area constructed at the school.
1992 – The final Sister of St Joseph to fill the role of Principal at the school left and was replaced by the first lay Principal.
1993 – New Parish Hall constructed.
1996 – Four new classrooms erected. First computer lab set up at one end of the school library.
2001 – New refurbished computer lab housing 18 computers completed.
2006 – New staffroom and office block erected.
2008 - Air conditioning installed in classrooms. First of the interactive whiteboards installed.
2010 – Interactive whiteboards installed in every classroom. New covered areas and fences erected. All computers moved from the lab to classrooms.