Town Profiles
Introducing Our Towns & Villages in Brunswick Valley…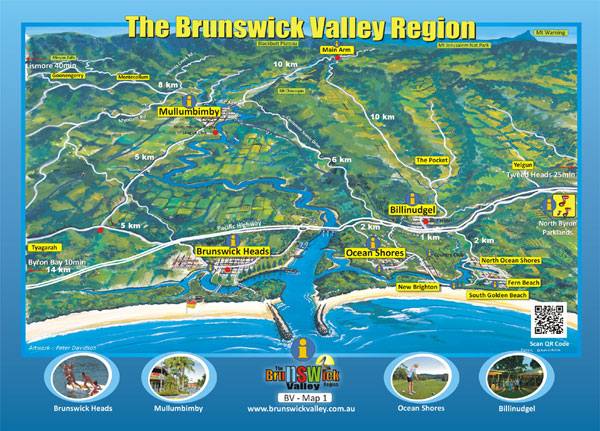 Mullumbimby, the main service centre of the Brunswick Valley, is nestled at the foot of Mt Chincogan. Mullumbimby has a vast array of shops and services including quality accommodation and eating houses. Many visitors choose to stay in Mullumbimby and access local beaches during day trips.


Brunswick Heads is a coastal fishing village characterised by beautiful beaches and sparkling waterways. Situated at the mouth of the Brunswick River, Brunswick Heads has its own fishing fleet and boat harbour. The harbour is situated to the north of the town. Locals and tourists enjoy water sports including surfing, swimming, charter fishing, snorkelling and boating. Extensive parklands in and around Brunswick Heads provide a relaxed atmosphere from which easy access is gained to the river and the town centre.


Ocean Shores has grown significantly over the past five years to become the largest town in the Brunswick Valley.
Situated four kilometres north of Brunswick Heads, Ocean Shores has beautiful ocean and coastline views from elevated residential blocks. A large shopping centre provides a variety of goods and services for locals and visitors.


The historic village of Billinudgel is home to the famous MA Ring Billinudgel Hotel. Operating in its current premises since 1908, a visit to this hotel is a unique cultural experience coupled with an historic view of the valley's pioneering days.