Fundraising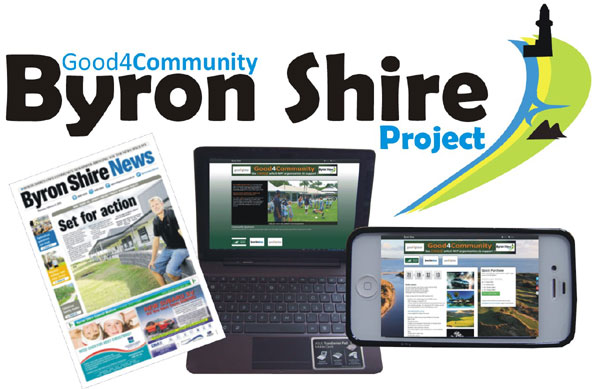 BACKGROUND:
Local businesses have always been the 'backbone' of support for local community organisations. Sponsorship of local sports clubs and generous donation of goods to schools & charities have traditionally provided funds for much-needed equipment & resources. With the increasing costs associated with running local not-for-profit (NFP) organisations and community groups, a new initiative has been developed to support and build our local community.
JOINT INITIATIVE:
Good4Global Limited is a not-for-profit organisation that has set up a Mega Community Raffle with APN Regional Newspapers & Aussie Gateways Pty Ltd. The community raffle will benefit local community groups including schools, sporting clubs and charities. We encourage community members of Byron Shire and visitors to this region, to access the Community Raffle  to purchase tickets… You choose the NFP organistaion or community group to support,  so don't forget to nominate your local community group when purchasing your tickets.
View Byron Shire News – full page promotion of the project click here
HOW THE INITIATIVE WORKS:
When you purchase a ticket in the raffle you can nominate a local  school, club or charity you would like to support. 25% of the ticket revenue will go to the nominated community group.
COMMUNITY GROUPS NEED TO REGISTER:
If you are a NFP Organisation or a Community Group (eg. a local school, sporting club, church group or charity) please register for the project here  to receive your revenue proceeds from the purchasers. Once you register, your community group may wish to promote the raffle URL  https://byronshire.good4global.com/raffle/67  to your supporters in order to encourage them to nominate your NFP organisation or community group to receive funds.
HOW TO PURCHASE A TICKET and NOMINATE YOUR COMMUNITY GROUP in 5 Quick Steps:
click here for instructions

A joint initiative of
Byron Shire Business and Community Network – Strengthening the Local Economy !
Good 4 Global Limited is a not for profit organisation
ABN 48 603 492 922
Charitable fundraising Licence is CFN/23655 & CFN/23566
Art Union Operated under Permit number (GOCAU/1672).