BV Festival 2000

Full version 10mins
Looking Back in Time …
Despite having limited resources, Festival 2000 was a great success. The entire exercise of staging Festival 2000 is an example of how a small community can pull together to create a positive, fun filled family festival. Despite the difficulties faced, community members, business people and organisations such as the Brunswick Heads Chamber of Commerce, Festival 2000 Committee, the Brunswick Heads Village Committee and local service and sporting clubs combined their manpower and resources to create a very wothwhile event which gave two weeks of entertainment to locals and tourists. Comments from tourists visiting the area were very positive. Many expressed their gratitude to locals for staging this very special event which became a highlight of their celebrations for the Year 2000.
Short Version 3 mins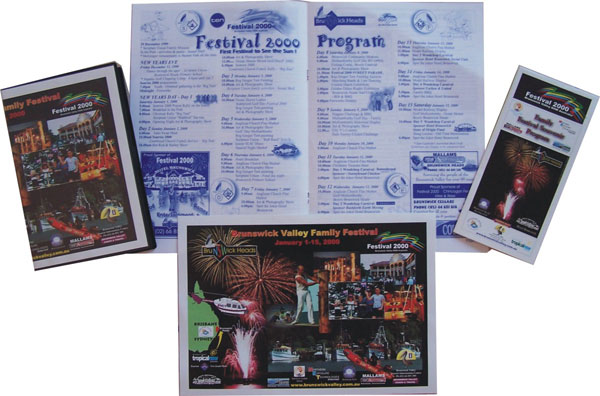 Community Groups & Events involved with Festival 2000…
Brunswick Valley Woodchop & Entertaiment Committee hosted the Woodchop Carnival.
Ocean Shores Country Club hosted Golf Days.
Reg Gregor Tent painting provided interest and the auction as a fundraiser.
Scripture Union provided children's activities in the park and a raft race from bridge to bridge.
City v's Country Cricket Match at Stan Thompson Oval.
Brunswick Golden Oldies Rugby Game.
Combined BV Churches hosted Sonrise 2000 a National Prayer Wave which began on the beach at Brunswick Heads on New Years Day 1/1/2000.
Brunswick SLSA hosted a number of events including a Nippers Challenge Carnival, IRB Carnival and a Junior SLSC Disco.
Bowls Carnivals at Mullumbimby, Brunswick Heads and Ocean Shores Bowling Clubs.
Model Railway Display at the Brunswick Hall.
Fishing Competitions, Auto Hot Rods Swap Meeting.
Doug Leclere Old Time memorabilia.
Art and Photo Display at the Community Centre.