Greater Ocean Shores 1969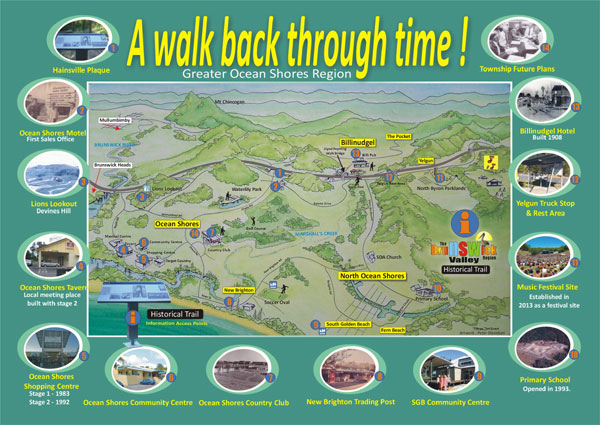 BV History Trail Maps – Ocean Shores/Billinudgel – Brunswick Heads – Mullumbimby/ Main Arm
Help identify our past and shape our future …
scan and email your historical photo of past days in Ocean Shores to hpp@norex.com.au
Identify the date, year, the location of the photo, the event and who took the photo.
Proposed Community History Project
Photo gallery showing the current day locations …


Aims: To showcase the history of the Greater Ocean Shores Region.

Objectives:
To compile an historic touring trail for the Greater Ocean Shores Region.
To provide a plaque at selected locations around the Greater Ocean Shores Region displaying information and photos from the past.
To produce an historic touring trail brochure identifying the selected locations and the historical information attached to the location.
Proposed Locations:
Ocean Shores Historical Trail Plaque Locations 1 – 14
(click on map above to identify the proposed locations. Locations showing current & past images).
Location 1 – Hainsville Plaque Location (entrance to Ocean Shores)
Location 2 – Ocean Shores Motel
Location 3 – Lions Lookout
Location 4 – Ocean Shores Tavern
Location 5 – Ocean Shores Shopping Centre
Location 6 – Ocean Shores Community Centre
Location 7 – Ocean Shores Country Club
Location 8 – New Brighton Trading Post
Location 9 – South Golden Beach Community Centre
Location 10 – Ocean Shores Public School
Location 11 – North Byron Parklands Entrance
Location 12 – Yelgun Truck Stop & Rest Area
Location 13 – Billinudgel Hotel
Location 14 – Township Future Plans
Greater Ocean Shores Online Historical Trail
(Photos supplied by Frank Mills, Jan & Jim Mangleson, Judy Anning, Veronica O'Dwyer, Reg Burns, Mark Russell & Billinudgel Hotel)
Snapshot Gallery (All photos)
The Timeline of Events
Billinudgel Village (circa 1881)
The Early Days (circa 1900)
New Brighton Village (from 1960)
The Ocean Shores Development (late 1960′s) Roundhouse Sales Office
The  Oceans Shores Estate (throughout the 1970′s)
The Ocean Shores Country Club & Course was constructed (1972)
The Ocean Shores Shopping Centre was opened (1983)
Ocean Shores North – Stage 2
Future Plans (Celebrate 50 years)
Today – Ocean Shores Township